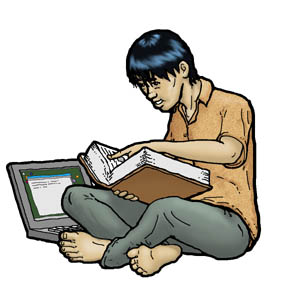 It's the second day of April and 24 more days to go before I reach the land of Beaches and Bitches hehehe.  Sorry for my language and it's not intended to offend the people of Thailand, it just the words rhyme. J  In fact, of all places that I've visited, Thais are the most hospitable.  Of course, second to the Filipinos. J  You can't disagree; it's my blog hahaha…
After this trip was conceived months ago with my friend Lew, I planned to learn how to speak in Thai at least some basic words and make it easier to converse to the locals when going out. Like when you ride a tuk-tuk or a taxi, asking an address, etc…  Though most of the Thais speak good English, it's nice to learn another language and in some way you impress them by trying to speak their native tongue.  They will think that a foreigner is trying to make an effort to speak in Thai and it will be a big deal for them.  It is like what I feel when a foreigner is trying to speak in Tagalog which is Philippines national language.
I've been traveling for some time and this is the only time that I thought of learning the language of the country that I will visit.  And I think it will be something advantageous for me and for other travelers as well.
I guess now it's the time to learn at least some basic ones.  For this article, let's start with the basic greetings.  By the way, the information below came from learningthai.com.
Greetings:
Hello – sawat-dee khrab (if you are a boy), Sawatdee Kaa (if you are a girl)
Goodbye – la-gon
See you again – lao jer gun
Good luck – chok dee
How are you? (sabai dee mai)
I am fine. (sabai dee)
And you? (lao khun lae)
What is your name? (khun chue arai)
My name is…. (phom chue….)
Nice to know you. (yin dee tee dai roo-juk)
Nice to know you too. (chen gun)
Join me on my next post when I talk about some polite words and numbers in Thai.
Comments and suggestion are always welcome. 🙂
Photo source: www.thai-language.com